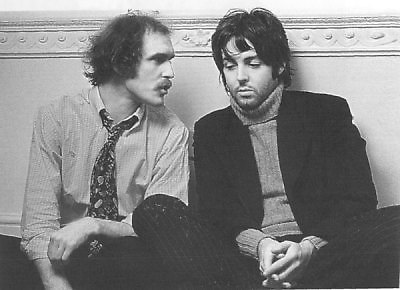 Neil Aspinall was the road manager for the Beatles and eventually the Manager of Apple Corps. He was involved in some great projects, like the "Beatles Anthology" and "1". I think it's a great tragedy that the Beatles lost the rights to so much of their work, but I think Neil and the rest of Apple Corps did a good job at keeping the Beatles legacy alive. Neil also played on a few Beatles tunes, on Sgt Peppers, Magical Mystery Tour and ect. It's sad that he died, so few are left who remember what happened when such great work was made.
It took me a long time to find the Beatles, I never really liked the artists I was listening to before them, I mean, I dug them - but I was trying to listen to punk ska stuff or weezer or something, but when I first heard Rubber Soul it just clicked that this was what I wanted music to be. It had a sense of humor, it was serious, it was well composed, it was meaningful. The rest of my musical taste was derived from what they were listening to, Elvis, Dylan, The Band. At the same time I never want to overestimate what they did, I don't really get the people who sat outside their house or cried when they saw them and all that. And I get frustrated when things like "Across the Universe" come out - because it's just this repackaging of an asthetic they created and it's not authentic and it misses the point.
I just want to listen to the records.
The Beatles -
Yes It Is